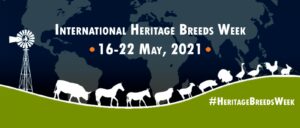 Pittsborop, NC–The Livestock Conservancy invites you to celebrate International Heritage Breeds Week, Sunday, May 16 through Saturday, May 22. During the third full week of May each year, conservation organizations, associations, farmers, ranchers, shepherds, and consumers share stories about how heritage breeds have impacted their lives, environments, and local economies. This global conversation raises awareness about endangered livestock and poultry breeds listed on our Conservation Priority List and about rare breeds around the world.
The First Day of Issue Ceremony will be celebrated at George Washington's Mount Vernon in Virginia and will be livestreamed at 11 am EST on Monday, May 17, as part of the International Heritage Breeds Week festivities. Watch the ceremony on The Livestock Conservancy's Facebook Page or George Washington's Mount Vernon YouTube Channel.
International Heritage Breeds Week aims to raise global awareness about endangered heritage breeds of farm animals. Many of our traditional livestock and poultry breeds have been replaced with more "improved" breeds in modern animal agriculture, at the expense of a massive loss in genetic diversity. Worldwide, about one domesticated livestock breed every month is lost to extinction.
Heritage breeds are traditional livestock breeds that were raised before industrial agriculture became a mainstream practice. These breeds were carefully selected and bred over time to develop traits that made them well-adapted to local environments and they thrived under farming practices and cultural conditions that are very different from those found in modern agriculture. Traditional, historic breeds retain essential attributes for survival and self-sufficiency – fertility, foraging ability, longevity, maternal instincts, ability to mate naturally, and resistance to diseases and parasites. Other names sometimes used interchangeably with 'Heritage' include: Native, Minor, Rare, Endangered, and others.
To learn more about International Heritage Breeds Week and how you can get involved, visit HeritageBreedsWeek.org, or call +1 (919) 542-5704.