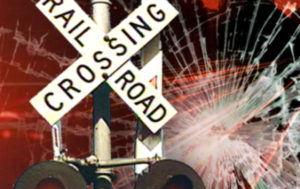 UPDATE: 9 a.m. Feb. 23, 2021: Leland Linneman, 60, of Salisbury, died Feb. 19 at University Hospital in Columbia as a result of his injuries from a Feb. 17 accident. Funeral services will take place at 10 a.m. on Tuesday, Feb. 23. A complete obituary can be found here.
Linneman's GMC 3500 truck slid into the path of a Norfolk Southern locomotive at Cal Hubbard Ave, 3.5 miles west of Salisbury, after attempting to stop for the train. The train crossing does not have electronic signals, according to the patrol report.
CHARITON Co. — A Salisbury man is receiving treatment for serious injuries sustained in a Chariton County crash Wednesday morning.
As 60-year-old Leland Linneman was traveling on Cal Hubbard Avenue, nearly four miles west of Salisbury, when he attempted to stop for a railroad crossing. In the process his vehicle slid into the path of a locomotive. According to the Missouri State Highway Patrol, there was no electronic signal device at the crossing.
Linneman was transported by Chariton County Ambulance to University Hospital in Columbia.