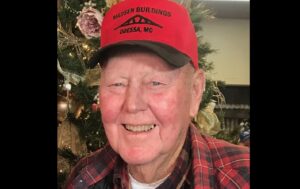 Charles Franklin Madsen, 83, of Odessa passed away Saturday, Oct. 23, at St. Luke's East Hospital in Lee's Summit.
Charles was born on July 25, 1938, in Oak Grove, MO to John Christian and Anna Marie (Petersen) Madsen.  He graduated in 1956 from Oak Grove High School.  Charles was united in marriage to Barbara Pearl Barnes on November 28, 1959, in Oak Grove where he owned and operated Oak Grove Grease Palace and did custom farm work.  Charles and Barbara moved to rural Odessa in 1969 where, with his sons, he farmed row crops, raised cattle, hogs and Belgian horses.  Later in life, he continued working with his sons and owned Madsen Buildings.  He attended the Church of Christ in Odessa.  Also, Charles was a member of the Lafayette County Cattleman's Association, past board member of the Central Co-Op, and past board member of the Oak Grove Optimist Club.  Charles enjoyed horses, hit and miss engines, restoring antique furniture, gardening, football, attending his children and grandchildren's sporting events and activities.  Spending time with family and friends was his greatest joy.
Charles is survived by his wife, Barbara Madsen of Odessa; four children, Brent Madsen and wife Bessie, Brian Madsen and wife Brenda, Becky Ford and husband Darin, and Betsy MacLaughlin and husband Brad, all of Odessa; nine grandchildren, Brady Madsen and wife Sarah, Brendan Madsen and wife Nicole, Thad Madsen and wife Megan, Leah Raymond and husband Cole, Blake Ford and fiancé Krysten Smith, Madisen Ford, Anna MacLaughlin, Ellie MacLaughlin, and Luke MacLaughlin; three great-grandchildren, Delaney, Ada, and Emma Madsen; one brother, John Madsen and wife Karen of Blue Springs; and many nieces and nephews.
In addition to his parents, Charles was preceded in death by a sister Thelma Lindsay.
Visitation will be held from 6 to 8 p.m. Tuesday, Oct. 26, at the Church of Christ in Odessa. A funeral service will take place at 11 a.m. Wednesday, Oct. 27, at the church. Cremation will follow. In lieu of flowers, memorials are suggested to a local charity of the donor's choice. memories of Charles and condolences for his family may be left here. Arrangements entrusted to Ralph O. Jones Funeral Home in Odessa.