A Kansas City resident, formerly of Higginsville, 89-year-old Charles H. Newland died on Saturday, June 6.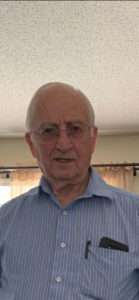 Funeral arrangements have been entrusted to Hoefer Funeral. A graveside service with military honors will be held at the Missouri Veterans Cemetery on June 23 at 10 a.m. The service is open to the public.
Born Thursday, July 3, 1930 in Higginsville, Missouri, he was the son of the late Charles Newland Sr. and the late Ruth (Stockton) Newland.
Charles graduated from Higginsville High School. As a teenager and young man he worked for the Newland family grocery/filling station at Hwy U and 13 Hwy south of Higginsville. After high school Charles joined the United States Navy in 1950, where he would serve four years as an machinist engineer on the USS Ajax repair ship. Charles was a member of the American Legion, Post 223 in Higginsville. After the service and a short time as a truck driver, Charles worked for the Lake City Ammunition Plant in Independence, MO as a gunsmith. He later found his calling as a welder and machinist for himself on his farm. He opened his own welding shop on his farm and spent most of the rest of his life enjoying the simpler things in life on his farm. He enjoyed bird hunting, water skiing and spending time at the Lake of the Ozarks. Charles was a former member of the Locust Grove Church as a child, but was currently an active member in a local Bible study group.
Surviving are two nephews; James Newland of Independence, Charles (Roseanne) Newland of Higginsville; two nieces, Elizabeth Newland of Arkansas, C. Newland of Higginsville; many great-nieces, nephews and cousins.
He was preceded in death by his parents; two brothers, James P. Newland and Winfred Newland.