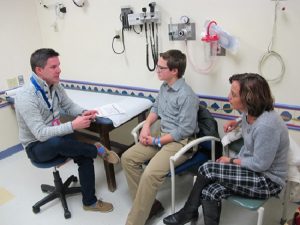 KANSAS CITY, Mo. (Press Release) – A new program has been launched in the region that lets children who have been newly diagnosed with Type 1 diabetes avoid a hospital stay. It's at Children's Mercy Hospital, and it's called "Strategic Transition to Ambulatory New-Onset Diabetes Education," or STAND.
Ryan McDonough, pediatric endocrinologist, and co-director of the Children's Mercy Diabetes Center, said instead of admitting newly-diagnosed patients, those ages five or older and their families will receive education and training on how to maintain healthy blood glucose levels in three outpatient visits at the Children's Diabetes Clinic.
McDonough explained that families and patients already are in shock once the diagnosis is made, so they don't need the added strain of having to be hospitalized.
"Because if you can imagine being admitted to the hospital when you're already dealing with a brand new chronic lifelong condition, it's very, very stressful," he said. "We're seeing some success for families who are not having to stay overnight in the hospital."
Children's Mercy currently is treating about 2,400 children with diabetes and an additional 250 to 300 cases are diagnosed each year. McDonough said in most cases, parents are able to be taught the skills they need to treat the disease in a clinic instead of having their child hospitalized.
Even though there's still no cure for the disease, McDonough said advances in technology have been made so that people who have it can lead normal lives.
"The technology and insulin pumps, the continuous glucose monitoring that we have now, all of that plays together to allow kids and their families to have a lot more flexibility with diabetes," he explained. "So, instead of being diabetic, you can just be a person with diabetes."
In the past, those with a new diagnosis were given all of the information in a short period of time, and McDonough said that can be overwhelming. The instructions now are broken up into sessions, and a peer-support system also is used so families can learn from each other.
No other hospitals in the region are using the STAND program.