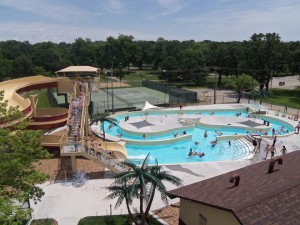 Chilli Bay is ending the summer with a bang…or a bark. Click to hear KMZU's Chelsea Wade speak with City Administrator Ike Holland:
Dogs will be allowed into Chillicothe's new water park on the final day of the season. The first ever "Doggie Dip" will run from 6:00 to 7:00 Monday evening.
Admission is $5. One animal per human will be allowed to come for a swim.
This is the final weekend the new water park will be open. "We'll be open Saturday, Sunday, and Monday from 12 to 6. It's supposed to be really hot all this week," Holland said, "Hopefully this weekend, if you have visitors, come on out to Chilli Bay."
The $4.2 million facility opened in June.
Press Release from the City of Chillicothe
Take advantage of the recent heat wave and bring the entire family to Chilli Bay and enjoy the final days of the season. Labor Day weekend marks the final weekend for Chilli Bay with operating hours Saturday and Sunday 12:00 – 6:00, and Monday 12:00 – 6:00. On Monday starting a 6:00 will be the first ever "Doggie Dip." Chilli Bay invites individuals from 6:00 p.m. to 7:00 p.m. to bring their dogs and swim together. Admission will be $5.00 for each individual. Each individual is welcome to bring one dog.