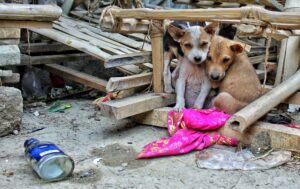 CHILLICOTHE, Mo. — The Chillicothe Animal Shelter, a local not-for-profit that rescues, rehabilitates, and finds forever homes for local animals, is always in need of loving families for cats and dogs. Leslie Patek, Shelter Guardian, explains how they ready the animals for placement.
Some may find the prospect of adopting an animal from a shelter intimidating, opting instead to find breeders or even pet stores to purchase a dog or cat from, while many animals are sitting in shelters, waiting to be rescued by loving families. To help familiarize the public with the steps it takes to adopt, as well as new protocols in place due to COVID-19, Patek breaks down the process.
Oftentimes, adoption fees turn out to be less than a person might expect, especially when vaccinations, spaying and neutering are involved. Petak and the Chillicothe Animal Shelter are  upfront about the cost, which is surprisingly reasonable.
Leslie Patek has been rescuing and caring for in-need animals for close to 29 years.  Referring to the those she takes care of on a daily basis as her "kids," it's easy to discern just how much her job means to her, but she also recommends a visit to a shelter for anyone who might be feeling down.
Patek reminds individuals who are struggling without work that a pet is a huge responsibility. She won't allow an individual who is without a steady income to adopt a pet. Instead, she recommends the person returns to acquire a pet once the party can financially afford to care for the animal.
Due to COVID-19 and the lack of work for some, Patek says the shelter has seen a rise in animal dumping in the area.
The weather sometimes plummets to below zero temperatures this time of year, which can mean life or death for pets left outside without proper shelter and warmth. Linda has a few suggestions.
She also recommends buying plug-in water heaters to keep pets water from freezing and reminds pet owners about how harsh  the salt that is put down to melt ice this time of year can be on a pet's paws.
Like most not-for-profits, the Chillicothe Animal Shelter is always in need of supplies to help care for the needs of the animals it serves. Patek says she is grateful for anything anyone is willing to give.  The items she recommends are also inexpensive.
To adopt a cat or dog from, or to donate to the Chillicothe Animal Shelter, call 660-646-1006 or visit the website here.
Leslie Patek – Shelter Guardian