GRUNDY COUNTY, Mo. – A driver from Chillicothe was hospitalized after a one vehicle accident in Grundy County Saturday, November 7, 2015.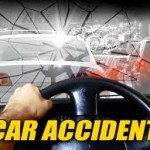 According to the highway patrol crash report, Gary Harper, 62, was eastbound on Highway 6, six miles West of Trenton when he ran off the edge of the pavement, over corrected and skidded into a guardrail off the North side of the roadway and came to rest at the bottom of an embankment.
Harper was transported to Wright Memorial Hospital with moderate injuries.