CHILLICOTHE, Mo.– Chillicothe Fire Department honored Ed Cosgrove, the fallen fire fighter who died in the line of duty yesterday, July 24, 2016, by raising a flag as his body was transported back into town for funeral arrangements.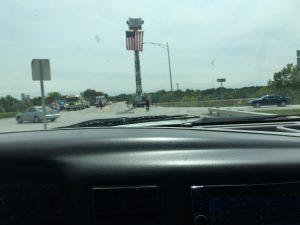 Chillicothe Fire Chief, Darrell Wright, said the Department held the flag in place on Highway 65, at the Highway 36 overpass just long enough for the body of Cosgrove to pass.
Cosgrove died in the line of duty Sunday after responding to a report of an RV fire on US 36 Highway near Utica. A propane bottle inside the RV exploded, going through the side of the camper. Deputy Dustin Woelfle, on scene to provide assistance, reported Cosgrove had a medical emergency where CPR and first aid were provided until Chillicothe Department of Emergency Services arrived to transport. Cosgrove was then transported to a hospital in Chillicothe and succumbed to his emergency.
Cosgrove was a 15-year-veteran of the Green Township Fire Department.
Visitation will be held Wednesday, July 27, 2016 at the Lindley Funeral Home in Chillicothe from 6-8 p.m. The funeral service will be held Thursday morning at 10 at the funeral home.