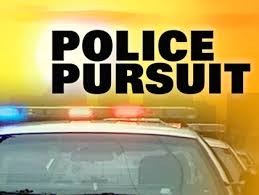 CARROLL COUNTY, Mo. — Carrollton Police used every means available to them, to locate a suspect who fled into a wooded area after a pursuit.
Officers engaged in a pursuit around 4:30 p.m., with Steven Bittiker, II. of Carrollton, who is wanted on outstanding felony warrants. The chase went off road before the suspect crashed his vehicle and fled into the thick timber. Carroll County deputies, the Missouri Highway Patrol, Chillicothe K-9 Unit and Carrollton Fire were called in to assist. When a drone proved unsuccessful, and the Patrol's helicopter was unavailable, at UTV was used to no avail.
When Sgt. Grider and K-9 Enoch arrived from Chillicothe, they led officers to the Bittiker hiding in the wash out of a creek bed.