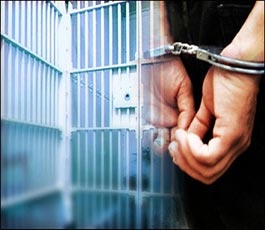 (UPDATE: 12/1/16 11:35 a.m.)- Austin Richard Holstine, 23, of Chillicothe, appeared in court yesterday alongside his attorney. A preliminary hearing was originally scheduled for November 30, 2016 and will now has been rescheduled  to December 28, 2016, at 9:00 a.m.
Earlier this month, Holstine was arrested on a felony assault charge allegedly causing serious injury to a child.
A motion for the Discovery File was made two days prior to yesterday's court date. Holstine remains in custody at the Davies DeKalb County Regional Jail.
LIVINGSTON COUNTY, Mo.– A 23-year-old Chillicothe man is in custody after allegedly abusing a one year old child.
Court records show police were dispatched to the Hendrick Medical Center Sunday, November 13, 2016, at approximately 4:03 a.m. for a child abuse report. An officer met with the child's mother and the mother's parents. She explained she left her son with Austin Richard Holstine, her boyfriend, Saturday night around 8 p.m., while she went to work, and the child had no injuries.
When she arrived home at approximately 2:30 a.m. Sunday morning, she confronted Holstine about the injuries, who stated he accidentally closed the front door on the child's head and the child's nose was bleeding because a crayon had got stuck in his nose and Holstine had to dig it out.
Holstine called his mother to come get him from the house and the mother called her parents. Holstine left when his mother arrived. The mother then took the child to Hendricks Medical Center due to his injuries.
An officer examined the child and noted bruises and swelling to his face and extremities, several marks that appeared to be caused by fingernails, from someone grabbing the child in an extreme manner, several marks that appeared to be made from a thin wire, as if the child was hit with the object. The officer also noted a continuous line around the child's neck that appeared to be from a thin wire or rope type object that had been placed around the child's neck to choke or strangle the child.
The officer was contacted by a social worker from Children's Mercy Hospital Sunday, November 13, 2016. The social worker explained the child had internal injuries along with surface injuries. She also explained the child suffered from a lacerated liver that would be caused by blunt force trauma and that the child's left leg suffered from a twist fractured tibia caused by someone purposefully twisting the leg to the point of fracture. The marks on the child's neck were conclusive that he was being strangled with a thin object such as a wire or rope. She added that these are very clear signs of physical abuse.
Court records show a warrant was served to Holstine Wednesday, November 16, 2016, and he faces one felony charge of assault in the first degree and is being held on a $250,000 cash only bond.