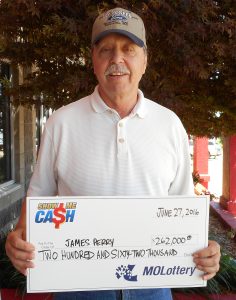 CHILLICOTHE, Mo. (Missouri Lottery Press Release)- A Chillicothe man's dedication to playing the Missouri Lottery state games has paid off and may allow for an early retirement. James Perry, 63, said he likes playing Show Me Cash specifically because of "better odds." That strategy led him to a $262,000 jackpot.
"A lot more winners on Show Me Cash; that's another thing I like better," he began.
Perry works as a sales manager at a car lot in Kirksville, Mo. so he has a few stores along the way where he stops and gets Lottery tickets.
"The odds are really good for Missouri Lotto. I mean, you get two picks for $1," he explained. "When Show Me Cash gets up there, I play it pretty hard. I bought 10 picks at Hy-Vee Gas."
One of those Quick Pick tickets he bought at Hy-Vee Gas, 1230 Washington St. in Chillicothe, Mo. matched all five winning Show Me Cash numbers on June 23, 2016. The winning numbers were:  3, 16, 21, 32 and 38. Perry went back to that location to check his tickets and caused quite a stir when it was discovered he won $262,000.
"There were a lot of people in the Hy-Vee Gas at the time," he said. "The whole town has heard about it now."
That drew a chuckle from his wife, Linda, who does floral arrangements. Now that he's won, Perry knows what to do with the windfall. He had kept working because their house burned down two years ago. Now, they can rebuild and maybe retire. But, he'll probably still play the Lottery.
"I bought one today," he said regarding Show Me Cash tickets. "If you don't play, you don't win."
Show Me Cash is a daily Draw Game with jackpots that start at $50,000 and grow until someone wins. In the last year, a total of 50 Show Me Cash jackpots have been awarded for an average amount of $172,000. Learn more at MOLottery.com.