CHILLICOTHE, Mo. — Riding For Our Veterans bull riding will make its way to the Litton Ag. Center in Chillicothe on June 24 and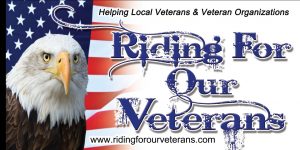 25, 2016. Riding For Our Veterans is a non-profit corporation dedicated to helping veterans.
"This year we have joined up with Amped Up Productions to bring a professional bull ride to Chillicothe, Missouri on June 24th and 25th. This is a NFPB sanctioned bull ride. It has all the bells and whistles just like the big PBR. It is one step below PBR so these guys are pro's and they will put on a fantastic show. It going to be an action packed show for the whole family. It will include mutton busting for the kids, and for those who really want to see what its like to ride a bull, we have a mechanical bull on site for all ages. We also have what we call extreme bull hula hoop. Those cowboys and cowgirls with true grit out there, they want to see if they can enter that. There is a $100 dollar prize for the winner of that each night," said Larry Oster, President of Riding For Our Veterans. The goal of Extreme Bull Hula Hoop is to get the hula hoop over the bulls head.
Tickets are $10 for adults, and tickets for kids 6-12 years cost $7. Children under six can attend for free. Advanced tickets can be bought from Barnes-Baker in Chillicothe and Trenton, Chillicothe Bootery, and Carroll County Farm Bureau in Carrollton. "All the proceeds from this will go to help the veterans, or a veteran organization… Any veteran that is in need can contact us and we have an application process that they go through. We've been able to help some out in quite a few different ways," said Oster.
Oster said this isn't an ordinary bull riding event. They will honoring men and women who have served our country throughout the whole night. "We're going to introduce some of WWII and some of the Korea guys in our opening ceremonies. We're going to ask all the veterans as they come in if they would register or sign in. Whenever they introduce the bull riders as they are getting ready to ride they'll introduce that name, what shoot their in, where they're from, and then they're going to ride in honor of and they're going to pull a name from that group of names that they collected when they registered coming in," said Oster. "These are the guys that signed the blank check up and to including their life for our country so we can enjoy the freedoms and liberties that we have."
The gates open at 4:30 p.m. and the main show starts at 7 p.m. Mutton busting registration begins at 5:30 p.m. and the first 20 kids will start at 6:00 p.m. In addition to the bull riding, PBR Cowboy Willy Ropp, and the 2015 Miss Missouri will sign autographs for fans.
For more information visit ridingforourveterans.com. Free tickets and a backstage look at the event are being given away for the event on Riding For Out Veterans Facebook page.