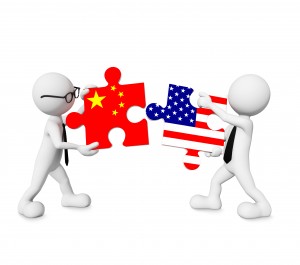 Click below to listen to KMZU's Andy Campbell speak with Chris Gibson, Vice President of Market Entry Services for Ipai Auction Company
Ipai (Shanghai) Auction Co. was the first American Auction Company to be introduced to China, and the companies unique situation has served the business well in more ways than one. The company won two Silver Asia-Pacific "Stevie Awards" for the 2015 year, the "Company of the Year" and "Business Innovation of the Year" awards.  Chris Gibson, Vice President of Market Entry Services spoke to KMZU about American companies doing business in the Chinese market.
China is a market of 1.4 billion consumers with a middle class of 300 million, about the population of the entire United States. With the middle class gaining more and more purchasing power and disposable income, American companies are seeing an increased platform to sell products. Small businesses already making headway in China include companies specializing in baby products, skin care products, and food items. Gibson states that very few categories do badly and products do well as long as they appear trustworthy.
China may also be a good fit with Missouri farmers. Missouri has a very high focus on cattle and other agricultural items which are viewed favorably by Chinese markets because of higher food safety standards placed on American products. Gibson mentioned that American premium pork is already seen as higher quality and Chinese consumers may pay more to American businesses they see as a "purveyor of a quality product."
Gibson also stated that Chinese business strategies and culture may seem different to many American companies, with a higher focus on 'building long-term relationships." Gibson also noted that only 1% of American Companies exported at all with 90% of exports going to Canada and Mexico.
To find out more about Ipai Auction Co. you can visit their website here.