CAMDEN COUNTY, Mo. — The Highway Patrol reported investigating a rollover bus crash in Camden County Monday afternoon.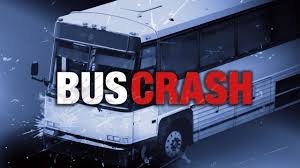 According to a crash report, the accident happened on Route AA about 500 feet south of Osborne Pass in Canden County at roughly 4:37 p.m. Monday as a group from Oklahoma was making their way to a church camp in Missouri.
A bus operated by 56-year-old Tulsa, Oklahoma resident Elizabeth K. Boevers was traveling north when she failed to negotiate a curve in the roadway, causing the bus to roll over.
Eleven juveniles from Broken Arrow, Oklahoma, all under the age of 14, received minor injuries in the crash. Ethan S. Spencer, 12, of Claymore, Oklahoma, Micah A. Johnson, 12, of Washington, Pennsylvania and 12-year-old Tulsa resident Rowin P. Bennett also sustained minor injuries.
All 14 injured parties, aside from Logan A. Harper, of Broken Arrow, were taken to Lake Regional Hospital to receive care. Harper was taken to Mercy Hospital in Springfield to receive treatment for his injuries.