UPDATE: 2:05 p.m. April 8, 2021: CLINTON, Mo. — A Missouri Highway Patrol investigation has led to 17 formal child sex charges against a Clinton woman. Kimberly Olivia Gray  was charged April 5 with her alleged sexual involvement with a 6-year-old child, which included phone video of sexual acts that took place multiple times in July 2020. Gray is currently being held on a $2 million cash-only bond in the Henry County Jail. A bond reduction hearing is scheduled for 11 a.m. April 16 in Judge Harold Dump's courtroom. Gray has entered a plea of not guilty.
In Derek B. Roberts Pettis County case, a grand jury indictment was filed on April 6 for the three counts of child pornography.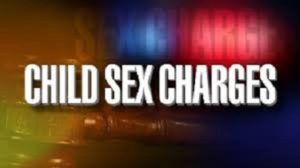 SEDALIA — A Clinton man is in Pettis County Jail on a $2 million bond for 26 counts of child sex crimes. Formal charges were filed March 25 against Derek B. Roberts after a Missouri Highway State Patrol Drug and Crime Control investigation.
Roberts is charged with seven counts of first-degree sex trafficking of a child less than 12 years old, 10 counts of sodomy, four counts of rape and two counts of first-degree promoting child pornography. The alleged incidents occurred in July 2020. Roberts was also charged with three counts of child pornography in Pettis County on March 11.
According to the highway patrol's probable cause statement, officers became aware of child pornography on a computer device downloaded on Jan. 28 and Feb. 1. Through a search warrant, investigators tracked the IP address where the pornography was downloaded. A March 10 search warrant of the Clinton residence found no pornography on electronic devices; however Roberts' phone was not there. Patrol then went to Roberts' employment in Sedalia. There, he allegedly admitted to downloading and viewing pornography at his home and on his cell phone.
"Roberts consented to a search of his cell phone. Dozen of videos appearing to the child pornography were located," the statement reads.
Another warrant on March 11 allowed investigators to search Roberts' phone. A forensic exam of encrypted digital files allegedly show Roberts being a participant and producer of child pornography with a 6-year-old child. Another female adult could be heard in the videos, court documents state.
Through geolocation data embedded in the files, the investigators say they learned the location of the alleged crimes. A March 24 search warrant executed by the Henry County Sheriff's Office seized items found in the videos. Investigators interviewed Roberts in the Pettis County Jail on March 24 to learn of the second adult allegedly involved in the pornography. Roberts declined to answer that question. The child's mother was also interviewed on March 24 to verify her child's identity. She denies any involvement.
No court dates have yet been scheduled in Clinton. He is to appear in Sedalia at 9 a.m. in April 8.