MISSOURI — With ice covering parts of the KMZU listening area Wednesday, a number of schools and institutions have cancelled or delayed classes and/or activities Tuesday.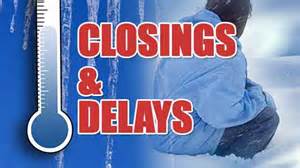 Schools:
Carrollton Head Start will be in session today, however no transportation will be provided
Concordia R-2 is CLOSED Wednesday
Marshall Public Schools will have a TWO HOUR DELAY with buses running two hours late as well. Schools will dismiss Wednesday at 2:15 p.m.
Events:
Carroll County Senior Center's Fit and Fun event scheduled for Thursday afternoon has been cancelled. The event will be held at a later date
Children's youth services at Southside Baptist Church in Carrollton have been cancelled Thursday evening
Malta Bend FFA Breakfast scheduled for Thursday, February 22 has been rescheduled for Thursday, March 1 from 7:00 a.m. to 8:30 a.m.
Refresh this page for updates throughout the day Wednesday.