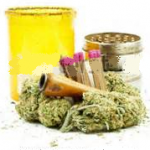 LAFAYETTE Co., Mo. – Two Columbia, Mo. residents took a trip to jail in the early morning hours of Friday, August 7, 2015 during a traffic stop in Lafayette County.
The Missouri State Highway Patrol reports Joan Armistead, 20, and Devin Bowne, 20, were arrested and each charged with felony possession of opiates, possession of marijuana and possession of drug paraphernalia.
The pair is being held for a 24 hour investigation in the Lafayette Co. Jail.