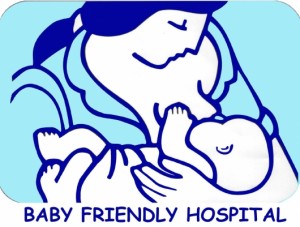 COLUMBIA, Mo. — The University of Missouri's Women's and Children's Hospital recently became the fourth hospital in the state to be designated "Baby-Friendly" by the World Health Organization.
The WHO and United Nations International Children's Emergency Fund (UNICEF) make the designation, which previously only included Fitzgibbons Hospital in Marshall, Hannibal Regional Hospital in Hannibal, and Truman Medical Center in Kansas City. The University of Missouri's Women's and Children's Hospital is now the fourth, and the only hospital with the designation in the region.
Dr. Courtney Barnes, assistant professor of obstetrics and gynecology at the University of Missouri School of Medicine, said the process of obtaining the designation was thorough, taking nearly five years to complete. Barnes said it took the entire medical team to make it happen.
"The baby-friendly designation just takes so much work, that we just started with baby steps," Barnes explained. "We naturally just started with the easiest things first, and then as we kind of got those things down, we started working with Hannibal Hospital."
Barnes' team partnered with Hannibal Hospital to create a model she could apply at the Women's and Children's Hospital.
Barnes said the designation is a benefit for both the mother and the baby. The purpose of the designation is to promote breastfeeding among new mothers. Barnes said other stipulations that come with the designation will mean enhanced care for newborn infants.
"I noticed when the babies were born, they were taken out of the room to a separate room," Barnes said. "I decided to get the nurses together to change that particular aspect of things, and once we started looking into what the benefits are of keeping moms and babies together … we found that there were real health benefits."
To keep the Baby-Friendly Designation, the University of Missouri's Women's and Children's Hospital must continue to abide by ten outlined steps.
WHO's 10 Outline Baby-Friendly Steps:

1. Having a written breastfeeding police that is routinely communicated to all health care staff

2. Training all health care staff in skills necessary to implement this policy

3. Informing all pregnant women about the benefits and management of breastfeeding

4. Helping mother initiate breastfeeding within one hour of birth

5. Showing mothers how to breastfeed and how to maintain location, even if they are separated from their infants

6. Giving infants no food or drink other than breast milk, unless medically indicated

7. Practicing "rooming in" – allowing mothers and infants to remain together 24 hours a day

8. Encouraging breastfeeding on demand

9. Giving no pacifiers or artificial nipples to breastfeeding infants

10. Fostering the establishment of breastfeeding support groups and referring mother to them on discharge from the hospital or birth center