COLUMBIA, Mo. – A 19 year old teen was shot outside the Columbia Mall, just before 11:30 p.m., Thanksgiving night.
According to Columbia Police, the victim was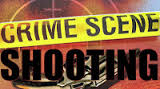 transported to a local hospital with life-threatening injuries. Witnesses say a handgun went off when a man pushed it into it's holster, striking the teen.
Columbia Police say it is too soon in the investigation, to rule the shooting as accidental.