JEFFERSON CITY, Mo– A Columbia man has admitted guilt to his part of a synthetic heroin conspiracy which resulted in the death of an 18-year-old man in August of 2015.
According to a release from the office of the United States Attorney for the Western District of Missouri, Tammy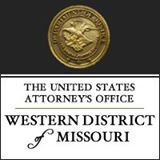 Dickinson, Nick Connor Burris, 21, today, January 21, 2016, pleaded guilty to conspiracy to distribute synthetic heroin. Burris stated he supplied the deceased man with the drug which the deceased had taken immediately prior to overdosing.
Burris' co-defendant, Marquette Deandre Murrell, 25, pleaded guilty to the same charge December 10, 2015.
Murrell was apprehended later the same day the overdose occurred. When taken into custody, Murrell was in possession of multiple suspected Alprazolam pills and approximately 4 grams of the synthetic heroin.
Both men are now subject to up to 20 years in federal prison without the chance of parole and a fine of up to $1 million.
Sentencing for the men will be scheduled after the completion of presentence investigations by the United States Probation Office.