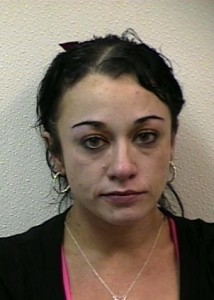 The Moberly Police Department made a traffic stop of a vehicle in the 1600 block of N Morley early Thursday morning. During the traffic stop a 25 year old Columbia women was taken into custody for possession of marijuana. It was later learned the female provided a false name to officers, which officers were later able to identify the subject as Hollie Sanders from Columbia Missouri. Officers later found Sanders had an active Johnson County Olathe Kansas Fail to Appear warrant, original charges of Felony 1st possession of marijuana and misdemeanor drug paraphernalia with a bond of $10,000.
During further investigation, officers located an electronic tazer, methamphetamine, drug paraphernalia, a large amount of cash, and a loaded handgun on her person.
On March 28, 2013 based on a criminal complaint filed by the Randolph County Prosecuting Attorney's office, Randolph County Judge Suter issued a warrant charging Hollie Sanders with two Felony counts of possession of Controlled substance except 35 grams or less of marijuana, and one count of Unlawful possession of a firearm with a bond of $100.000 cash only. Sanders was transferred to the Randolph County Justice Center, where she was unable to post the required bond.

Cpl Anthony Bowne
Moberly PD