UPDATE:  5 p.m. (9-29) – Statements by Carroll County Fire Protection indicate the cause of the fire was undetermined.  During the course of the incident, the fire spread across the highway, and into a nearby cornfield causing some damage.  Carroll County Fire was assisted by responders from Norborne Fire Department.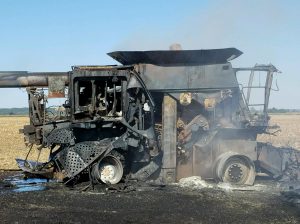 CARROLL COUNTY, Mo. – The Carroll County Fire Protection District was called into action about 2:25 p.m. Thursday, September 29, 2016 for a combine fire on Route B. It's located approximately 2 miles south of Wakenda, Mo.that's in the southeastern portion of Carroll County, near the intersection of route to be and county roads 432 and 421.
Nearby vegetation reportedly sparked by the combine fire and crews had to move some form of equipment or machinery out of the way as a precaution.
If you are in the area, please use caution.