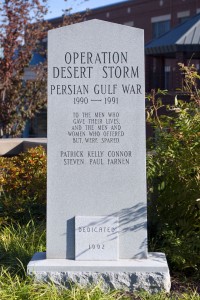 COLUMBIA, Mo. (AP) — The Boone County Commission is being urged to overturn a decision to cover a Christian symbol on a monument to Columbia-area soldiers who died in Operation Desert Storm.
More than 100 people attended a meeting Tuesday night to discuss the commission's decision last summer to cover the ichthus, often called the "Jesus fish," on a monument near the Boone County Courthouse. The commission also is considering moving the monument to private land and a proposed policy for future monuments on the Courthouse Plaza.
Reports indicate all but two of the 27 speakers told the commission the county should uncover the symbol and keep the monument where it is. Many speakers also wanted the proposed policy on future memorials to delete any reference to prohibiting religious symbols.