MAYVIEW, Mo. – A tragedy struck the small community of Mayview when an accident took the life of one firefighter and injured another. Even while grieving, the community has pulled together to assist the families of the firefighters.
KMZU's Sara Miles spoke with Chris White, the Mayview Fire Chief, about the two men involved and an event they are hosting in honor of the two men.
A dinner and auction will be held on July 30 with all proceeds going to the families of Jeff Sanders and Jake Hayward. For more information about the event, visit the KMZU Community Calendar here.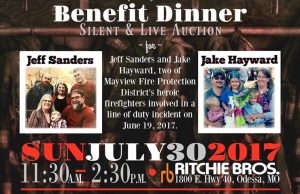 Chief White told KMZU that the dinner and auction is possible because of the many people and organizations that have come together. He stated. "It started out with just a few people talking and it just has grown and grown and grown."
Organizations and individuals have been donating time, money, and items to support the benefit dinner. Volunteers are coming forward to do all tasks needed that night including serving, organizing donations   and the auction, and much more.
Chief White explained, "Everyone wants to give just like those guys gave back to their communities."
Along with being a part of the Fire Protection District Sanders was also a member of the Lions Club, the Odessa FFA Advisory Board, and the Mayview Special Road District.
Hayward has also been extremely active in the community through the Fire Protection District and other organizations.
Anyone unable to go to the event can still show their support through donations. They can be sent to the Mayview Fire Protection District at 500 W Orchard St Mayview, Missouri, MO 64071.  A T-shirt or raffle ticket can also be purchased here.