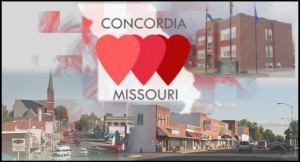 CONCORDIA, Mo – The Concordia Board of Aldermen met Tuesday, February 16, 2016 after observance of Monday's President's Day public holiday.
Approval of the minutes from the last meeting was easily garnered, as was the amending of funds and payment of bills.
A large portion of the meeting was devoted to public comments.  In a scheduled comment, Hallie and Mabel O'Dell, at 506 Northwest 8th Street came before the board with a grievance against a neighbor.  The O'Dells complained of standing water on their property which resulted in several feet of mud in some places.
The contention was that a neighbor had diverted water onto the O'Dells' yard.  They brought a written statement and photos to support the claims.
City engineer, Tim Crockett stated the natural topography of the land would, more or less, ensure that water would flow from the neighbor's property onto the O'Dells' property, regardless of diversion.
In response, The O'Dells' further suggested that the neighbor was not only diverting normal rainfall, but also accumulated water from their basement via sump pump.
After nearly 30 minutes of discussion, the board determined that the matter was a civil issue, and the city should not be directly involved.
However, the board made a motion to authorize the city, namely, the city engineer, Crockett, and administrator, Dale Klussman, to facilitate mediation between the three parties involved.  The O'Dells, their neighbor, and the owner of adjacent farmland will be invited to a future meeting to discover if any agreement may be reached between them.
Statutory updates reviewed by General Code were submitted for approval by the board.  Only a single reading was delivered at the meeting.  The second reading, and final passage, will occur after the city's attorney reviews the update.
The board approved the cashing of a $50,000 certificate of deposit.  It would give the city more cash flexibility for scheduled purchases.  The loss of interest accrued was not considered significant.
Meetings were announced by the city administrator regarding 'round-table discussions' between city departments and Concordia citizens.
A meeting Thursday, March 3, will include discussions with the Chamber of Commerce involving future plans in communications development.  This will also include plans for internet speeds throughout the city.
Another meeting, Thursday, March 10, will host discussions with KCP&L and interested parties, including businesses north of I-70.  Recent electrical problems will be the core subject.