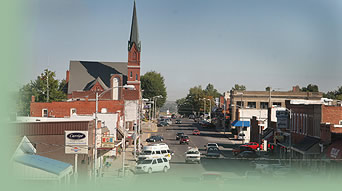 CONCORDIA, Mo – The routine housekeeping measures were passed quickly at the second meeting of August 2015 for the Concordia Board of Aldermen.
With no old business for discussion, the council went through six items of new business, which included a presentation of the recent audit conducted by Randall Fiene, CPA.  An accompanying resolution to accept the audit results and pay Fiene for his services was ratified by the board after the presentation.
Listen to the presentation of audit results by Randall Fiene.
An ordinance was passed which levied tax on real and personal property.  A previously advertised public hearing took place at 7:30 p.m. at the board meeting.  City Administrator Dale Klussman gave an explanation of the proposed tax rate during the hearing.  It had mainly to do with a corresponding rise in assessment values.

The rate was increased by roughly 17 cents per $100 of assessed value from last year.
A request was heard from the Concordia Fall Festival Executive Board for permission to use the Trail of Memories for a Ping Pong Ball Drop, and to shut down sections of 6th and 7th Streets during the event.  The board had certain reservations about the plan, including pedestrian and automotive traffic during midday on a Saturday.  The board decided to advise the Fall Festival Board of the possibility of a different location for the event.
A request was heard from the Junior Class of St. Paul Lutheran to host a 5K Run/Walk on October 3, 2015.  The event was reported as very organized on the part of St. Paul.  It was decided to approve the request.
A change in zoning was also under review.  The board deferred judgment until after another review by Planning and Zoning.
The meeting was concluded with reports and announcements given by the city administrator and board members.