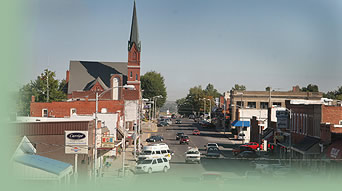 CONCORDIA, Mo – The city of Concordia will be looking into the possibility of changing the scheduled fiscal year.  The matter was brought up at a city council meeting Monday evening, October, 17.
City Administrator, Dale Klussman gave the presentation to the aldermen board.  A city auditor, who could not be at the meeting, was in favor of the plan, according to Administrator, Klussman.
The issue driving the change, in the minds of Klussman and Aldermen, is the potential for future boards of Aldermen to be bound to the budget priorities of past boards of Aldermen.  Since Concordia's elections take place in April, a new board could potentially 'inherit' a budget finalized only a short time prior to their election, for the fiscal year beginning April 1.
A proposal to alter the city's fiscal year to begin October 1, was heard by board members.  According to the presentation delivered by Klussman, not only would a newly elected board have input as to budget priorities, but a large portion of the city's revenue would have been collected in the first quarter of the fiscal year.  That would, consequently, provide more clarity through the remainder of the year, regarding where money could safely be spent.  The October start would also roughly coincide with the end of swimming and baseball season, allowing the city to take note of appropriate maintenance needs to be taken care of during the budget year.
A final question before the board, was how to proceed with the transition to the new fiscal year.  The city has two main options, according to Klussman.  The first, is to prepare an 18-month budget, beginning April 1, 2017, and ending September 30, 2018.  This course was thought to present more uncertainty than the second option.  An option to pass a six month budget (April 1, 2017 – September 30, 2017) was considered more favorable, and meets all bond covenants.
The first reading of an ordinance proposing the above fiscal year, with an additional six-month transition budget was read and approved by aldermen.  A second reading was postponed until the next board meeting.
Other business concluded at the meeting involved the passage of an ordinance to approve construction of sidewalks for the Concordia Entrance Project at the I-70 ramps.
The city is considering future projects improving the sewer system.  Work involving an extension at Ada Street will be accepted through the bidding process.
Possible solutions will be sought to improve the lagoon, which requires targeted, microbiological agents to eliminate sludge, and limit ammonia levels.