Click play below to listen to KMZU's Shaylee Miller speak with Missouri's Forth Congressional District Representative, Vicky Hartzler, about the 4th Annual Congressional Foster Youth Shadow Day and National Foster Care Month: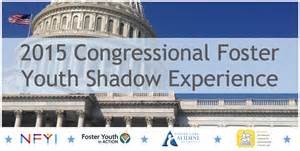 May has been deemed National Foster Care Month and in regards to this recognition, the U.S. House of Representatives took part in the 4th Annual Congressional Foster Youth Shadow Day.
Missouri's 4th Congressional District Representative, Vicky Hartzler, spoke with KMZU's Shaylee Miller about her shadow for the day and the amazing triumphs the youth has seen since the beginning of her journey in Haiti. Hartzler said her foster shadow Maria, now a college sophomore, had a unique situation when going into the foster care system. "Her parents sent her to an orphanage at a young age hoping that she would be adopted and would have a better way of life but she ended up being there for 7 years before she was adopted by a couple in America. But then sadly, that did not work out and so she ended up having to live in a home in Florida," Hartzler expressed, "Thankfully right now she is with a loving foster family and has really found her footing in life." Maria just recently completed her freshman year in college. Her insights and encouragement into adoption of foreign children touched Hartzler and brought the representative to speak passionately about the foster care system.
One of the biggest areas Hartzler seemed to cover was the ever growing need for new, loving foster families. During her interview, she also spoke abou

t the wonderful families already in the program and the amazing things they are doing every day for the children in the foster care system. Hartzler said Missourians should show support to their neighbors, co-workers, and family members who have taken that step and helped to show a child/children that there is more to life than an orphanage but most importantly that every child deserves to have a family and to be loved.
To learn more about the Missouri Foster Care Program visit the MO Department of Social Services website.