Asthma is a huge public health concern in the United States, affecting nearly 23 million people, especially children. In fact, one in every 10 children suffer from asthma, with no cure in sight.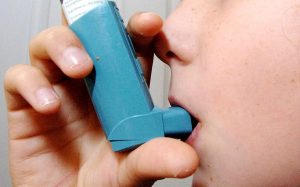 However, asthma symptoms can be controlled through both medical treatment and the identification and management of asthma triggers in the environment.
U.S. Environment Protection Agency (EPA) is partnering with organizations that are taking action to get asthma under control in communities across the nation, and focusing on ways to improve the lives of children and families affected by asthma.
"We can take steps to protect our families and control asthma by learning the triggers and creating an action plan," said EPA Region 7 Administrator, Mark Hague. "We know our public health is directly connected to our environment, and threats such as climate change are aggravating symptoms for communities across the country, which is why improving air quality is one of EPA's top priorities."
In order to control triggers, one must know what those triggers are. According to Gina Grier, life scientist at EPA Region 7, there are multiple asthma triggers, all of which can be harmful to children with asthma.
Click here to listen to KMZU's Shelby Flynn talk with Gina Grier:
"There are several environmental asthma triggers. Secondhand smoke is probably the most common. Dust mites are also common; they're microscopic and we don't see them, but they're everywhere," said Grier. "They're especially in beds and mattresses and stuffed animals and they feed on skin flakes. So, they can be anywhere that a child is sleeping."
Grier says they suggest parents of make sure mattresses are covered with a hypoallergenic wrap and to put stuffed animals in the freezer or keep them washed to control the buildup of dust mites. Another big trigger is allergens that can be created from owning pets.
"[With] dogs and cats, it's usually their skin flakes or their urine and saliva," Grier said. "Cats seem to have a higher rate of causing asthma triggers or allergens with children because they have a protein in their saliva, and cats are always licking their fur and cleaning themselves."
Other asthma triggers include mold, which accumulates in damp or humid regions in houses and buildings, and allergens from rodents and other insects, such as cockroaches.
Grier says that with no cure for asthma, the EPA is striving to educate children and caregivers about asthma triggers and symptoms so they know what do to in the event of an asthma attack.
"There is no cure, but it can be controlled by knowing what the asthma triggers are and to avoid those triggers, by taking medications as directed, [by] the child and caregivers knowing what to do during the asthma attack, and knowing that there are emergency phone numbers handy, especially for schools and day cares," said Grier.
Those with asthma can help control their symptoms with three easy steps:
First of all, identify and avoid environmental asthma triggers. Work with your doctor to learn about your own personal triggers since asthma sufferers are affected differently.
Next, create an asthma action plan, which will help to monitor your asthma daily and offer steps to reduce exposure to personal triggers through effective control strategies. You may also consult with your doctor to help you create an action plan.
Finally, pay attention to the air quality. Exposure to ozone and particle pollution can cause asthma attacks. Local air quality conditions can be checked at http://airnow.gov, and an Air Quality Index app can be downloaded on your smart phone.