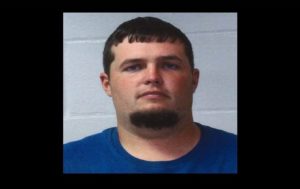 UPDATE: 11:30 a.m. Dec. 23, 2020:
WARRENSBURG — Murder suspect Garland "Joey" Nelson's motion for confidential contact visits with his attorneys was denied in Johnson County Circuit Court on Tuesday. The court granted the state's request for increased security for filings. Nelson, of Braymer, is charged in the deaths of Nick and Justin Diemel who went missing after seeing Nelson about a bad debt in July 2019. A probable cause statement accuses Nelson of shooting the brothers, putting their bodies into 55-gallon barrels and burning their bodies. Their remains were discovered in areas in Missouri and Nebraska. The case has been continued to Jan. 21 for an hour-long hearing.
WARRENSBURG —
Garland "Joey" Nelson
, the Braymer man accused of killing two Wisconsin brothers in 2019, learned on Tuesday he won't be able to meet with his lawyers in person until a judge hears from Caldwell County public health officials where Nelson is detained.
Patrick Berrigan, Nelson's lead counsel, contended his attorneys should be allowed in-person visits due to the seriousness of his multiple charges.
Johnson County Judge Michael Wagner set a Dec. 22 hearing to include testimony from public health officials to determine safety concerns amid the COVID-19 pandemic.
Nelson, 26, is accused of killing Nicholas, 35, and Justin Diemel, 24, who allegedly came to Nelson's farm to collect on a debt on a cattle transaction in July 2019. The brothers never returned home after visiting Nelson, Their burned remains were later found in Missouri and Nebraska. He's charged with two counts each of first-degree murder, abandonment of a corpse and armed criminal action, as well as tampering with physical evidence. 
Recently from his jail cell, Nelson was additionally charged with tricking an individual to steal a semi-truck to eventually sell on his behalf on Oct. 30