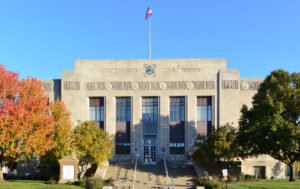 LIBERTY — On Friday, 7th Judicial Circuit Judge James Van Amburg ordered Clay County officials to produce all 2017-19 commission meeting minutes, plus personnel appraisals specified in a Nov. 22, 2019 subpoena within 10 days to the court. Van Amburg also ordered Clay County records custodian Nicole Brown to submit to an examination by the Missouri State Auditor's office. Brown did not comply with a subpoena in November 2019.
Clay County Commission has not complied with record requests resulting from a citizen-driven audit of Clay County. State Auditor Nicole Galloway filed suit in December 2019 for the court to compel county officials to release the requested documents. The county commissioner counter sued.
"Neither the Missouri Constitution nor Missouri statutes require the auditor to make a showing … as to how particular records, or the testimony of witnesses is related to the receipt and expenditure of public funds prior to the duty to grant access to such records or witnesses during an audit," Van Amburg writes.
Auditor Galloway calls it a win for county taxpayers "in the pursuit of transparency."
"The court's ruling requires that Clay County officials comply with my audit and stop their obstruction," Galloway says in a news release.