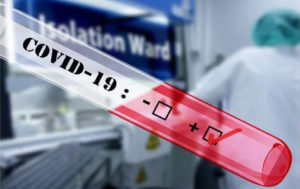 UPDATE: 2:35 p.m. Thursday, July 9
Carroll County Health Department reports 25 active COVID-19 cases, 6 more than yesterday on July 9.
CARROLLTON – Within the last 24 hours, the Carroll County Health Department has reported that there are currently 19 active cases of COVID-19 in the county, with 8 under observation and a total of 30 overall reported cases.
For an area that was relatively untouched by the outbreak early on, this is something of a dramatic change.
"At this time of the year people are getting together more," Carrie Mansur, an LPN who works for the health department, says. "It only takes one person and they don't even know they're sick while they're around other people. It's just the nature of the disease."
Mansur says the health department is contact tracing with the person infected to figure out where they got the disease and who they might have spread it to, however right now the cases are community-based and are not coming from any specific place.
Getting tested simply because you have been in contact someone who has the virus isn't always ideal because the timing can interfere with the results, Mansur says. A person who has tested positive for the coronavirus can have up to 10 contacts in place for who they may have been in touch with. People will be contacted by the health department or the person who has tested positive and from then on discuss the next steps. If someone is unsure if they could have the virus or have potentially been exposed, it is best to call the health department and review their options.
The Carroll County Health Department does not handle testing. The appropriate places to get tested are at your doctor's office or a designated testing site such as Live Well Health and Wellness Center in Waverly, MO or Fitzgibbon Hospital in Marshall, MO.
The health department's staff is dedicated to handling positive cases and making sure everyone in their respective situation is taking the right steps. Mansur's ask for the community to review the CDC guidelines and to be as diligent as possible in stifling the spread of the virus.
"We're trying to do what we can to make sure people are informed," Mansur says. "We're trying to keep everyone healthy."