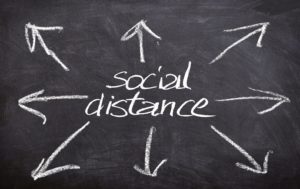 KIRKSVILLE — July 4 is the midway point of 2020 and since the beginning of the year, COVID-19 cases in Adair County have reached a total of 99 confirmed cases. Four cases have recently been reported by Adair County Health Department.
Those involve a 50-year-old male working at a meat processing plant, a 34-year-old male whose case is travel-related, and a 21-year-old female and male whose infections are the result of community spread, according to health department administrator Jim LeBaron.
"Community spread is how we categorize a case when we don't know how someone became infected with COVID-19," LeBaron said in a social media post. "Those are the cases we don't want to have in our community because we can't determine who transmitted the disease and therefore can't get a complete picture in our contact-tracing efforts," he said.
People who have had close contact with the infected person are asked to quarantine themselves for 14 days to reduce the chance of further transmission of the virus, he wrote.
LeBaron urges individuals to be aware who they encounter in public places to aid in contact tracing, if needed.
"As people leave their homes for the holiday weekend, it's helpful to note what other people they have close contact with. If someone later tests positive, remembering who that person had close contact with will help with contact tracing," LeBaron said.
LeBaron also reminds people to take precautions set forth by the CDC when going outside of their homes.  Those precautions include maintaining a social distance of six feet, wearing a mask, washing hands frequently with soap and water or using hand sanitizer, if soap and water aren't available. People should refrain from potluck and picnic-types of eating, he added.
LeBaron said some residents have been confused by differing case numbers reported by various entities on websites ranging from the CDC, Johns Hopkins University, media outlets and the Missouri Department of Health and Senior Services.
"Reporting entities such as testing labs are required to notify the local health department of any positive results for any of their residents," LeBaron said. "We know that our numbers are as current as possible at all times. Even the Missouri Department of Health and Senior Services' website is often behind on reported numbers, because it takes time for them to update its website, and the website states there is a 72-hour delay in numbers because the Department needs to verify them before updating the site," he added.