KANSAS CITY, Mo. (KMBC-TV) — Kansas City fire crews are battling an early morning apartment fire in the 2600 block of Lockridge.
The apartment building is near Prospect and Lockridge.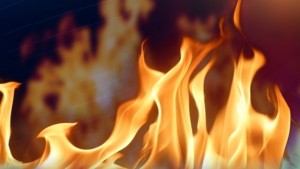 A resident of the apartment complex says an area on the second floor was on fire. She was able to escape using a flashlight. Her boyfriend jumped from the second floor window to escape. He was transported to an area hospital for treatment.
Firefighters have evacuated the building for safety purposes and are staying clear of the west side of the structure where a potential collapse zone has been established.
Parts of the roof have been seen collapsing into the building. A car parked next to the building has been damaged by collapse debris.
Crews have also evacuated the buildings near this structure for safety.
Red Cross assistance has been ordered for around 30 people.
KCATA is sending a bus to the scene to keep residents in the area warm.
On scene a man told authorities that his girlfriend had set fire to his mattress Friday morning. Police say a person of interest connected to this fire is currently being interviewed by investigators.
Fire officials say this building is a total loss.