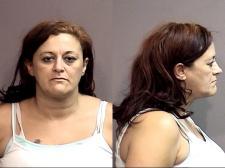 BOONE COUNTY, Mo.- A Crocker, Mo., woman is being held without bond following a run-in with Troop F of the Missouri State Highway Patrol in Boone County Sunday, August 13, 2017.
Melissa Wright, 45, was wanted on a felony parole warrant out of Jefferson City, Mo., and a felony warrant in Pulaski County for distribution of amphetamines. She is now facing preliminary charges of felony tampering with a motor vehicle, possession of methamphetamine with the intent to distribute and possession of drug paraphernalia.
She was transported to the Boone County Jail around 10:34 p.m. last night pending the filing of formal charges.