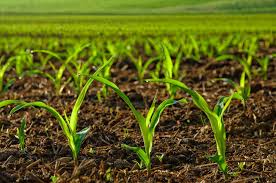 In this week's Crop Progress and Condition Report, it is obvious that farmers were set back by the copious amounts of rain.
For the week of April 24 through April 30, the state averaged 6.07 inches of rain statewide. This is 5.04 inch increase from the 2012-2016 average.
Rain has made it a lot harder for farmers to be in the field. The state reported on 2.1 days suitable for fieldwork on average. The West Central region reported on 0.7 days and the Central region reported 1.8 days that were suitable. Last week, 4.2 days were reported as suitable for fieldwork.
For the state of Missouri, 67 percent of corn has been reported as planted, compared to 46 percent of last week and 88 percent at the same time last year. Corn that has emerged is 30 percent.
Only five percent of soybeans have been planted for the year. Last week two percent was planted and last year ten percent was planted.
The Crop Progress and Condition report is released weekly by the USDA National Agricultural Statistics Service.