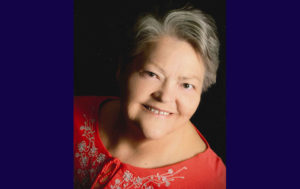 Cynthia Jane Abney (Tyree), 67 of Higginsville, Missouri passed away on Tuesday, February 18, 2020, at The Groves in Independence, Missouri.
Funeral arrangements have been entrusted to Hoefer Funeral Home and online condolences may be made to the family at www.hoeferfuneralhome.com
A funeral service will be held at 11:30 AM with a visitation held at 10:00 AM on Friday, February 21, 2020 at First Baptist Church with the Rev. Dr. Greg Fine officiating. Interment will follow in the City Cemetery.
Casket bearers: Marshall Abney, Ryder Abney, Tanner Abney, Daryl Garton, Chris Putnam, Hunter Wilckens. Honorary casket bearers: Karleigh Abney, Kynleigh Abney, Tatum Abney, Thadius Abney, Casey Sanders, Cody Sanders, Kyle Sanders.
Memorial contributions may be sent to First Baptist Church, Higginsville or the National Kidney Foundation.
Born Monday, March 17, 1952 in Belleville, Illinois, she was the daughter of the late Rudolph Tyree and the late Gladys Tyree (Beucke). Cyndi married Terry Abney on November 18, 1972 and they enjoyed 43 years of marriage. He preceded her in death on October 19, 2015.
Cyndi graduated high school in Dupo, Illinois. She attended college at South West Baptist University in Bolivar Missouri and Missouri Valley College in Marshall, Missouri. She went on to teach general education at Leslie Bell Elementary School in Lexington, MO for 20+ years, retiring in 2010. She was a member of the First Baptist Church in Higginsville. Cyndi enjoyed playing piano at church, playing golf, teaching Sunday school and serving on many church committees. Cyndi spent most of her time being the best grandma to her grandchildren. She attended all their events; family was the most important thing in her life. She will be sorely missed by all.
Surviving are one son, Bryan (Cara) Abney of Concordia, MO; two daughters, Heather Abney of Blue Springs, MO and Courtney Abney of Independence; one sister, Brenda Berryhill of Warrensburg, MO; one brother-in-law, Steve (Cathy) Abney of Warrensburg; one sister-in-law, Dawn (Kevin) Sanders of Higginsville; one mother-in-law, Audrey Abney of Higginsville; seven grandchildren, Hunter, Karleigh, Kynleigh, Ryder, Tanner, Tatum, Thadius; many nieces and nephews, many "adopted" grandchildren and friends. She was preceded in death by her parents and her husband Terry Abney.