David Ray Holloway, Jr., 29, of Richmond, died unexpectedly Thursday, February 13, 2020, at his home.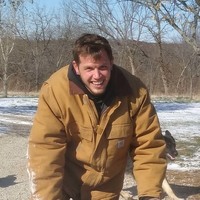 David was born on April 18, 1990, in Redding, CA, the son of David Ray and Melissa (Beard) Holloway, Sr. He was first united in marriage to Britney Turner; they later divorced. He was engaged to be married to Chelsea Gorham of Richmond; she survives of the home.
Additional survivors include: his parents; five sons: Wyatt, David Ray III, Remington, Kaydin, Taylen; four daughters: Trinity, Hazel, Laila, and Aria; three brothers: Paul (Whitney) Wartenbee of Omaha, NE, Daniel Beard of St. Joseph, and Mark Holloway of Richmond; sister, Kaylena Beard of Raymore; and maternal grandmother, Myrtle Beard of Adrian.
He was preceded in death by his paternal grandparents and maternal grandfather.
David was reared and educated in the Orrick and Camden area. He was a self-contractor who did landscaping and remodeling. David was a jack of all trades and could work on and fix anything. He enjoyed his children, loved animals, especially his cat, was a friend to everyone, and will be dearly missed by his family and friends.
The family suggests memorial contributions be made to the David Ray Holloway, Jr. Memorial Fund. They can be left at or mailed to Thurman Funeral Home, 507 East Main Street-P.O. Box 190, Richmond, MO 64085.
Friends and family will gather from 4:00 P.M. to 6:00 P.M. on Saturday, February 22, 2020, at Thurman Funeral Home in Richmond, to share memories and stories of David. Inurnment will be held at a later date. Please remember to share your memories of David with the family by visiting www.thurmanfuneralhome.com.