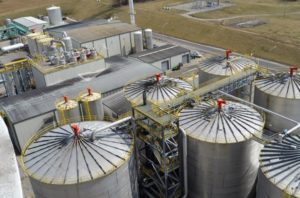 CARROLLTON — Carroll County Commission unanimously approved an industrial bond agreement between the county and Show Me Ethanol to aid the company in an $18.7 million expansion to produce commercial-grade alcohol. Utilizing the state's Chapter 100 statute, the county will serve as deed holder of the company until 2042 so the ethanol producer can receive a $5 million tax abatement to help defer the cost of construction. The agreement was formally approved on Sept. 18. It takes effect on Sept. 29.
"This was the last milestone to get the project approved," Show Me Ethanol CEO Brian Pasbrig says. "And now the work begins on launching and lining up construction and getting all of those things in place."
Pasbrig hopes to complete the expansion by mid-2021, if COVID-19 and the availability of contractors do not disrupt plans. Eight more jobs are expected to be added, including those in a larger, more sophisticated lab. According to the agreement, the ethanol producer has two years to complete the project.
"The Covid impact really helped us to see the opportunity and now we are trying act on it," Pasbrig said recently. That began when the ethanol producer began making and distributing hand sanitizer locally. The expansion would allow its product to be used in a variety of applications, like in pharmaceuticals, cosmetics and drinking alcohol.
The move also counters what Pasbrig calls the "headwinds" that slow ethanol's growth in the fuel market and to help maintain its corn demand from local farmers.
Carroll County Commissioner Bill Boelsen noted another advantage: The ethanol producer's big demand bring a better price for corn. Boelsen pulled out his phone and announced Show Me Ethanol was giving a 25-cent advantage on Sept. 18 — $3.71 a bushel for corn, compared to $3.46 in nearby Brunswick.
"That's a $16,000 difference," Pasbrig noted, since the company currently processes 65,000 bushels of corn a day, he says.
Show Me Ethanol currently provides a $90,000 payment in lieu of taxes annually to county from its 2008 industrial bond agreement. Those payments increase to $103,000 in 2028, according to the agreement. In Year 9, PILOT payments double to $202,000 annually to the county.
Presiding Commission Stan Falke told KMZU no county funds were utilized in the agreement, including attorney fees. Show Me Ethanol picked up that tab, he says.