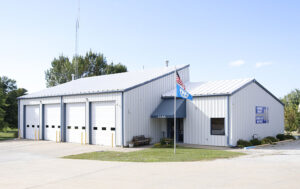 CARROLLTON — In a move that appears to be pushing out all current full-time Emergency Medical Technicians, Carroll County Ambulance District's new administrator notified existing employees in fairly callous terms to make room for an entirely new staff in a recent email obtained by KMZU
"There will be full-time and part-time employees very soon. You can address the board IF you feel that you need to, even though you were informed a while ago in writing," wrote administrator Mario Defelice.
"What they are doing is just cutting employees to bring in who they want," a current employee told KMZU, who wished to remain anonymous.
A job posting on Indeed shows multiple openings for EMT-Paramedics to work 48  hours, with 96 hours off at CCAD. That schedule wasn't offered to current employees, they say, because of tight living quarters in the facility.
The recent firings, slashing of hours and benefits have created a "hostile work environment," they say.
What is worse is a "threat" of revoking their licenses if they do not perform well on upcoming testing.
"This is going to happen in the next few weeks. You will be given an opportunity to show what you can and cannot do comfortably. I am still getting complaints about the care … I spoke with the board and the medical director, so here is the final outcome. You will be given a chance to remediate and improve in those areas needing some fine tuning. If this proves to be unsuccessful, the medical director will be forced to notify the board that he has lost confidence in your ability to practice per RSMo 190.103 (3) declaring you unfit to function as a healthcare provider for CCAD EMS. You national registry will not be renewed, and this will be reported to the state. I have no control over this situation at all, so all can do is try to help you through things," wrote Defelice.
CCAD's Kansas City-based medical director is Dr. Dave Gustafson,  who serves as medical director to several ambulance districts. Two Carroll County Memorial Hospital physicians expressed an interest to serve in that role after the resignation of Dr. Marvin Ross in 2019. The board declined, according to hospital CEO Jeff Tindle.
In a press release on Sept. 16, the CCAD board somewhat spells out its staffing plans. In it, those with an EMT-Basic license do not have place. The district will be staffed with people who have at least an EMT-Paramedic certification.
"The board decided to keep the service as an Advanced Life Support program where all types of medical emergencies can be cared for," it reads.
The current staffing for ambulance crews is for eight employees, the release says, six of which are currently with EMT-Basic licenses.
"If the district is going to ensure we have Advanced Life Support for both 911 (calls) and interfacility transfers, there are not enough hours to support this schedule," it says.
That would require a staff of 12, which the district cannot afford, it says.
"The current budget cannot support this change as there would need to be a larger building, more money," the release says.
As of July 31, CCAD's financial statement shows a $1.2 million cash carryover.
It also states Carroll County Memorial Hospital disagreed with the decision to go to all-paramedic crews.
Tindle says CCMH has "had no input into their personnel decisions."
"We need the ability to send a patient with a life-threatening illness out at any time and have a paramedic available at any time," Tindle says. "We would certainly disagree the driver has to be a paramedic. We just need someone in the rig to be a paramedic who can administer IVs and life-saving medication."
The release also says the county ambulance service "cannot take as many (hospital) transfers as it has in times past."
"No one from the hospital understands what that means," Tindle says. "They have the same number of rigs, the same number of opportunities. Once they are staffed, we would assume they wouldn't be limiting the number of transfers. I am unaware of an ambulance district that limits the number of transfers."
When the hospital needs an ambulance service, CCAD is its first call, Tindle says. But with ambulance district's critical staffing shortage, the hospital "has had to rely on other ambulance services and that's happened continuously over the past month and a half," he says.
Tindle says he spoke with board president Caren Bittiker this week.
"In our conversation … it's not about her, it's not about their board, it's not about their director or about me, it's about providing a continuum of care to the residents of Carroll County. That ought to be the only focus," he says.
How Nearby Ambulance Districts Staff
Nearly all adjoining ambulance districts have two-person crews – one who's a paramedic, the other an EMT-Basic. Area district administrators say those with an EMT-Basic license are typically the drivers, while the paramedic attends to the patient. This pairing also saves in payroll costs, they say.
Prior to late 2018, CCAD also followed this staffing schedule, according to former interim administrator Dan Gawedzinksi. Prior to the retirements of Sheri Clavin and Donna George in July 2018, CCAD employed six full-time paramedics and three EMTs, he says.
However in Livingston County, its ambulance district requires all EMTs to eventually become paramedics, according Chillicothe Fire Chief Eric Reeter.
The reason is because of call volume.
"We do a lot of EMS transfers from Hedrick (Medical Center) to other facilities, usually in Kansas City. It gives us the ability when we have people out of town to be able to provide Advanced Life Support," he says, adding EMS crews routinely make hospital transfers – 3 to 5 times a day.
Livingston County Ambulance District partners with the city of Chillicothe to provide EMS service to the entire county, he says. With that task, 19 of the 25 staff members are paramedics. Three of the six licensed as EMT-Basic are currently in training to become  paramedics, Reeter says.
Each entity has its role, he says.
"All the (EMS) equipment belongs to the ambulance district. The district contracts with the city and pays a portion of our salaries and benefits for city employees to respond. The building is owned by the city and the ambulance district shares the expenses on it," Reeter says.