RAY COUNTY, Mo. – A woman and child from Excelsior Springs were injured when they hit a deer in Ray County yesterday.
The crash report says Linda Shoemaker,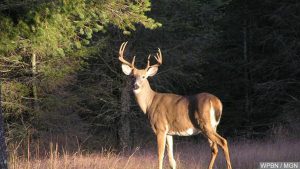 68, was southbound on Lake Doniphan Road, South of 132nd Street when she hit the deer shortly after 5:00 Tuesday afternoon. Her vehicle went off the right side of the roadway, struck a culvert and overturned.
Shoemaker and her passenger, Karmen Clark, 8, were taken by private vehicle to Excelsior Springs Hospital.