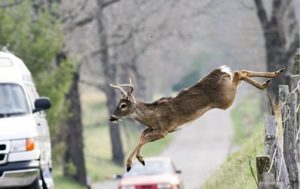 MILLER COUNTY, MO – Two Warrensburg residents were in a single vehicle accident last night traveling eastbound on 52 Highway.
According to a crash report, an occupant, Kalli Lavin, 23, was moderately injured after the vehicle veered off the right side of the road near McGuire Lane in Miller County, landing on the ground, and striking a fence.
State troopers say the driver, Joseph Lavin, had swerved to avoid a deer in the roadway.