CASS COUNTY, Mo. – A case review, continued from January 11, is scheduled to be heard in Cass County today, February 22, 2016.
Jeffrey Dean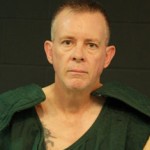 Moreland, 56, of Jefferson City is scheduled to appear for the hearing at 1:30 this afternoon. A trial date could be set at today's hearing, for Moreland's two counts of forcible sodomy and one count of forcible rape.
Moreland is a former Grandview police officer, already convicted for murder after DNA from this rape case linked him to a cold case homicide in 2008.