Delores Faye Manning (Cole), 76 of Corder, Missouri passed away on Wednesday, December 18, 2019, at St. Luke's East Hospital in Lees Summit, Missouri.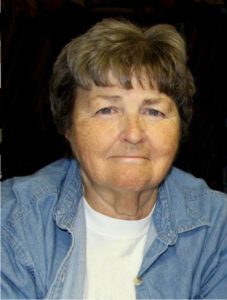 Funeral arrangements have been entrusted to Hoefer Funeral Home Inc. and online condolences may be made to the family at www.hoeferfuneralhome.com
A funeral service will be held at 3:00 PM on Saturday December 21, 2019 at the Corder Baptist Church with the Rev. Dr. Greg Fine officiating. Interment will follow in the Calvary Cemetery. Casket bears: Russell Bedford, Matthew Marsh, Jon Bedford, Jason Manning, Jeremy Manning, Joseph Gash. Honorary Casket bears: Austin Bedford, Olen Butler, Thomas Gash, Steven Mahnken.
The family will receive friends from 2:00 PM to 3:00 PM on Saturday, December 21, 2019, at the Corder Baptist Church. Memorial contributions may be sent to the Corder Baptist Church.
Born Wednesday, May 12, 1943 in Sedalia, Missouri, she was the daughter of the late Albert Cole and the late Ruby Cole. She was a graduate of Corder High School. Faye married Donald Manning on August 14, 1965, in Corder. They were married 54 wonderful years. Together they spent their whole lives in Corder raising their family. She worked as a secretary for Missouri Valley Resource Development Corporation as well as a house wife raising her children.
In her spare time, Faye was an avid reader, enjoyed sewing and quilting. She was an amazing baker and cook. She was a member of the Corder Community Club and Corder Baptist Church. She donated her time to the Higginsville Classic Shop as well as other Corder activities. Faye loved camping during lake trips with Don and participating in the Warsaw Fair Heritage Days.
Surviving are husband, Donald Manning of the home; one son, Kevin Manning of Corder; two daughters, Beth (Rex) Gash of Higginsville, Jill (Jerry) Zvacek of Corder; one brother, Albert Gene Cole of Lone Jack, MO; one sister, Joyce Bedford of Holden, MO; seven grandchildren, Rebecca (Steven) Mahnken, Matthew (Katelyn) Marsh, Joseph Gash, Lexy Gash, Ruby Gash, Thomas Gash, Grace Manning, Melissa (Brandon) Hall, Courtney Zvacek; three great-grandchildren, Lillian Mahnken, Brayden Zvacek, and Amelia Gash.
She was preceded in death by her parents.