Across the nation, classrooms are full and halls are buzzing with students entering a fresh school year. To help student success, the U.S. Department of Education is launching Absences Add Up, a campaign to combat chronic absenteeism.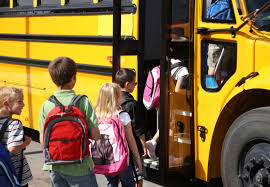 Click play below to listen to KMZU's Elizabeth Orosco speak with Leslie Cornfeld, special advisor to the U.S. Secretary of Education.
A recent study shows over 6 million students are chronically absent each year, negatively impacting academic performance and putting them at risk for falling behind in the future.
A student is chronically absent when they miss a month or more of school, a large portion of the school year. If a student misses just two days a month during the academic year (18 days total), this adds up to one month total.
"Students who are chronically absent in pre-k, kindergarten and first grade are far less likely to read at grade level by third grade," said Cornfeld. "If kids don't read at grade level by third grade, they are four times more likely to not graduate. So that's the reason we are ringing the alarm bell on this issue, that it is critical to our kid's futures and to the community's future that our kids are in school every day."
A study by the Ad Council shows 86 percent of parents understand their child's school attendance impacts their child's chances of graduating from high school; however, only 49 percent feel it's okay for their child to miss three or more days a month.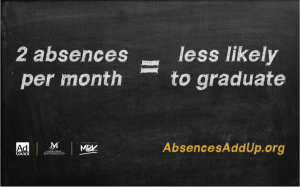 The Absences Add Up campaign empowers parents with information and resources to help ensure their children attend school everyday.
Their website  navigates parents, teachers and community members through different challenges students face for missing school. Reasons include not getting good grades, being bullied, being frequently ill, struggling with mental or emotional health, or having difficulties with housing or food.
Parents and community members are able to gain issue-related resources to help students overcome each challenge. There are also resources for mentoring and afterschool programs.
The site also offers resources for communities as a whole, including steps communities can take to reduce absenteeism, toolkits for city leaders, and flyers.
Cornfeld says it's imperative to get the message out and reach those children who need it most.
"Spread the word. It doesn't matter what great things are happening inside our schools if the kids that need it most aren't showing up to school."