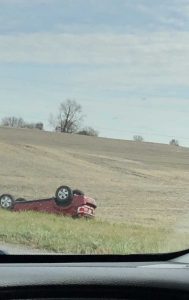 UPDATE:  8 p.m. – A crash reported earlier this afternoon in Saline County involved a Waverly resident.
Missouri Highway Patrol reports, the crash on U.S. 65, south of Afton avenue, injured two residents of Nebraska when their vehicle went off the roadway and overturned. A crash report indicates a 2015 Kenworth truck driven by Joel Fisher, 35, of Waverly, lost tires, which collided with the Nebraska vehicle. Victor and Charlene Green of Laurel, Nebraska were treated for moderate injuries at Carroll County Memorial Hospital.  
SALINE COUNTY, Mo.- KMZU News has confirmed reports of a rollover accident in Saline County on MO-65 just east of US-24 turn off to Waverly, Mo., that occurred this afternoon.
Initial reports suggest a semi-truck may have been involved in the accident that sent another vehicle into a ditch and caused it to rollover. Multiple emergency personnel responded around 12:30 p.m., and flagged off one lane as crews worked to clear the scene.
Injuries are unknown at this time and a formal accident report has yet to be received.