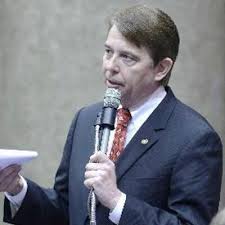 JEFFERSON CITY, Mo – With racially motivated dialog and recent protests on various college campuses given as reasoning, House Bill 1637 has been pre-filed.
Representative Dean Dohrman, R., cited the results of a Pew Research poll, which reflect what he calls, a "disturbing trend".
Dohrman refers to the First Amendment definition of free speech.  Poll results suggest an increasing trend.  The results found 40% of millennials polled believe speech should be restricted or suppressed if it would be  considered offensive to minorities.  Older generations who held similar beliefs constituted 25% of their age group.  Seniors of like mind made up only 20% of that category.  Dohrman believes these results indicate a trend toward an ideology which fosters censorship.
A press release from Dohrman's office states:  "All Missouri graduates will receive and pass a course in the Founders motivations for including freedom of speech in the First Amendment. "   The bill, if passed, would make this a requirement.
Dohrman's constituents in Missouri District 51 include residents of Pettis, Saline, and Johnson Counties.