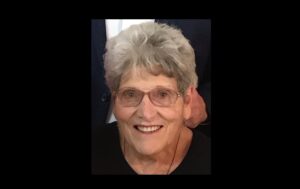 Dolores Marie (Ghisalberti) Meierer, 84, of Richmond passed away on Friday, December 4, 2020 at home surrounded by family.
A rosary will be recited at 6:00 p.m., Wednesday, December 9, at the Walker-Nadler-Fuller Funeral Home in Lexington. Visitation will follow from 6:30 p.m. to 8:00 p.m. Wednesday, at the funeral home. A Mass of Christian Burial will be held at 11:00 a.m., Thursday, December 10, 2020 at the Immaculate Conception Catholic Church in Lexington. Interment will be in the Richmond Memory Gardens, in Richmond. Memorials are suggested to St. Jude Children's Research Hospital or Ray County Humane Society. Memories of Dolores and condolences for her family may be left here.
Dolores was born on December 23, 1935 to Adolph "Pete" and Cesira "Sarah" (Simonetti) Ghisalberti. She graduated in 1955 from Lexington High School. Dolores was united in marriage to Wilburn Earl Meierer on November 21, 1954 in Lexington. In May of 2016 Wilburn preceded her in death. Dolores worked for Lafayette Regional Health Center for 20 years as a CNA and Physical Therapy Assistant. She then retired from Ray County Hospital after 10 years as a Physical Therapy Assistant. Dolores was a member of the Immaculate Conception Catholic Church in Lexington. In addition to spending time with friends and spoiling her family, Dolores was an animal lover, a talented artist, and enjoyed gardening. Survivors include, four children, Mark Meierer and wife Donna of Springfield, MO, Michael Meierer of Richmond, MO, Steve Meierer and wife Cheryl of Richmond, MO and Teresa Minnick of Richmond, MO; 12 grandchildren, Lucas Meierer, Amber McCool, Jenny Ward, Matthew Meierer, Montana Meierer, Nichole Hayes, Stacy Alcanter, Justin Meierer, Stephen Meierer, Brandy McCray, Logan Minnick and Brook Rogers; 21 great-grandchildren, and 2 great-great grandchildren; a brother, Carl Ghisalberti and wife Carol of Lexington; a sister, Janice Lynn and companion Leroy Barnes of Lexington; and many nieces and nephews.
In addition to her parents and husband, Dolores was preceded in death by a sister, Adelina Watson; and a daughter-in-law, Rhonda Meierer