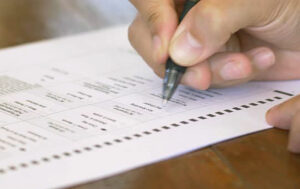 CHILLICOTHE — Anyone thinking about snapping a pic of their election ballot on Nov. 3 and posting it online — don't. It's illegal, according to Missouri state election law.
A Chillicothe woman is finding that out the hard way. Tari Gayle Graves was formally charged on Sept. 22 with misdemeanor Class Four Election Offenses when she posted a photo of her completed ballot to show who she voted for in the August primary.
According to the Chillicothe police department's probable cause statement, Graves shared the photo on the Facebook page of Richard Knouse, a challenger to incumbent Livingston County Sheriff Steve Cox. The word "Done" was attached to the post, the statement says. Police learned of the matter through its Facebook page on Aug. 24. Knouse received 759 votes in the primary; Cox amassed 3,049 votes.
According to state statute 115.637, voters cannot allow their ballots to be seen by any person with the intent of letting it be known how they voted.